I've been on hiatus from blogging for a couple weeks to temporarily remove any "artificial" obligations in my life in order to have some time to "reset".
Now feeling "reset", I thought I would jump back into blogging with a little essay "primary/elementary" school style like the infamous "What I Did on My Summer Vacation".
By the way I was not hanging out with the fabulous looking women at the beach during my hiatus, like those in the feature photo of this post (photo by Vitae London on Unsplash), I just thought it was a fun beach photo to use in the middle of semi-freezing winter in Denver!
Okay so now it is time to imagine me standing in front of our 4th grade class presenting this essay below (and perhaps my parents helped me make a slide deck for my images/photos)…
READING
Listening to audiobooks and turning the pages of actual physical books, I've done a lot of reading during the past several weeks.
I've finished the book City of Brass by S.A. Chakraborty, that I read for my virtual book club with my friend Michele (see post Virtual Book Clubs):
Last Friday Michele and I had another card-making playdate like the one I shared in the post Card Making Playdate from last October and discussed City of Brass. In tomorrow's post (why yes, I am going to now post frequently…hope you don't grow tired of me) I will share what we made.
I recently finished the next book in our "Virtual Book Group" (but wait is it "virtual" if we are meeting in person, socially distancing of course, to discuss the book?) and it was quite the awesome page turner – The Guest List by Lucy Foley:
It's been a long time since I've read (actually I listened to the audiobook) the kind of book I absolutely could not put down. If you'd like to read a synopsis of the book – here is the link to the one on Publishers Weekly (no worries, there are no spoilers) – The Guest List.
Currently I am listening to an excellent (so far) Science Fiction/space novel – To Sleep Under a Sea of Stars by Christoper Paolini. I love it so much I've already bought the hard copy of the book as my library loan of the audiobook is about to expire and there are a zillion other library patrons waiting in line to listen to it next.
It not just fiction books I've been inhaling, I've also read several new crafting books I picked up over the past couple of months.
I've been obsessed lately with making non-quilt items such as tote bags (see post Tote, Tote, Tote Bags) and pincushions (a future post); and love my new book by Ayumi Takahashi – Patchwork Please which features lots of fun things to make: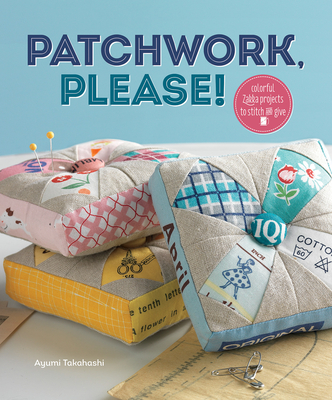 I am sort of obsessed with "zakka" and Japanese author craft patterns. I love the aesthetics of their designs as well as the function. Here are many of the books in my home library collection of Japanese author craft patterns:
COOKING
For a while in the Denver metro area, our restaurants closed down again to inside dining during the pandemic. Finally they opened to 25% capacity and now I think they are starting to reopen to even 50% capacity (or perhaps I am hallucinating at this point as I have complete pandemic fatigue at this point).
While they were closed again, like in the early days of the pandemic, we tried to make fun meals at home and not get home cooking fatigue. Here are a couple photos of the delicious meals my partner John (a very good cook who used to actually cook professionally) and I made.
Delicious Irish Stew and Homemade Biscuits
Salmon Fried Rice
Nachos!
Pizza (with dough made from "scratch")
Orzo Pasta Salad
Are you hungry yet?
One of my favorites that I could not locate easily locate a photo for was the handmade gnocchi with gorgonzola sauce and scallops that John made one night. I thought I was at a high-end restaurant!
Yes, I will not lie, I had packed on a couple "pandemic pounds" from all this good eating, but we do not eat like this every night. We do try and have salads for dinner a couple nights a week.
WALKING
To combat the effects of all those delicious home cooked meals, I've been going on a lot of very long walks. It is always a great way to listening to my audiobooks. Most of the times I take Mike my Miniature Schnauzer with me but many times I just go walking alone (then I do not have to stop for the "frequent signing in on bushes" that Mike loves to do on his walk).
Here are a couple Black & White images I took on a wintry walk, in which someone had left a found glove on a branch for its owner to hopefully someday find. I got a kick out of the "composition" in the stark landscape created by the glove.
If you enjoy B&W images, I do have a series of posts where I feature B&W images – Life in B&W.
In case you are wondering – either the glove blew away or was reunited with its partner by the owner as the next day it was gone.
REFLECTING
During my break from blogging, I spent a lot of time reflecting and trying to figure out my life. As many of you know, I am in my second year of widowhood caused by the very sudden and very expected death of my life partner, Terry the Quilting Husband (see post Remembering Terry the Quilting Husband (TTQH)).
I'd been with Terry since I was in my early 20s and I am now on a journey to "reinvent" myself in my middle years of life as "Tierney minus Terry", after what seems like a lifetime of "Tierney +Terry".
In previous posts, I've discussed re-opening my tierneycreates Etsy shop and my original plan when I took a hiatus from blogging was to start blogging again in about a month when I was ready to re-open my Etsy shop.
Over the past several months, I've made a lot of items in preparation to re-open the shop but still could not move forward with re-opening the shop. I was struggling to figure out what the big block was for me.
Then while looking at some old photos on my Google Photos account which I rarely use, I found an old image of the joint tierneycreates business card Terry and I had together when he was helping me with my Etsy shop. He was listed as a "Maker" on my Etsy shop as he helped me with many of the items I produced by cutting out patterns and doing preliminary sewing, especially on items like Miniature Kimonos, which were very popular on my shop.
I realized that my tierneycreates Etsy shop is just too closely tied to memories of crafting with Terry and I am just not ready.
Part of my "widowhood journey" is trying to figure out what to do with what is basically a lifetime's worth of memories with someone who is now gone.
After losing your spouse you are expected to go on with your life but what do you do with all those memories (and mementos) of a life previously lived? I think that is the $64,000 Question which I have yet to answer for myself (I've done a lot of reading on grief and the answers of other people's journey but I still have to find my own answer).
But I have figured out that unless it is something critical, not push myself to do anything I am not ready to do, even if it seems like a good thing to do (like re-opening my Etsy shop).
(The above images are of Terry, Sassy, who passed in Dec 2017 a year before Terry, and I vacationing in Cannon Beach, Oregon; and of Terry modeling a quilt he helped me make)
CRAFTING
There's been a whole lot of crafting over the past couple of weeks. I've found a lot of peace in making things. I feel very lucky to be a "Maker".
Many of the items I've shared on my tierneycreates Instagram account but many I have not. I am going to save a discussion of what I've been working on for future blogs posts but I will share that I've been making more tote bags like I discussed in the post Tote, Tote, Tote Bags.
Here are some of my latest tote bags:
I look forward to diving into more about what I've been making in my future posts!
WAKE UP, THE ESSAY IS FINALLY OVER!
So that concludes my essay and I can safely assume the whole class is asleep now at their desks!
Oh wait, I see the teacher is also asleep at their desk! Maybe I won't get a "A" on this presentation…
---
Postscript
Just a quick follow up to my post Redesigning my logo. I decided not to change my logo at this time and just figure it out at a later date.