Now how's that for alliteration for a post title?
I mentioned in my post What I Did During My Blogging Vacation, that recently I'd been reading lots of crafting books to include Patchwork Please by Ayumi Takahashi.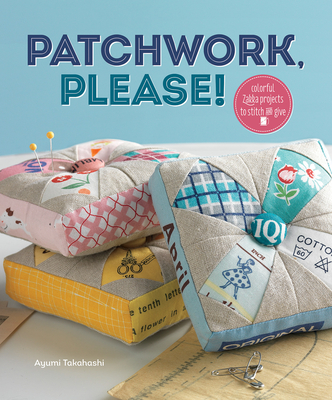 I am OBSESSED with the adorable pincushions on the front cover of this book. The pincushions are made from fabric scraps (a plus!) but they are (foundation) PAPER PIECED (a minus).
Here is how I feel about FOUNDATION paper piecing (not English Paper Piecing like fun type with hexies, but the other paper piecing):
If you are bad in life and go to the "Underworld" when you die, as your punishment you will be made to do foundation paper piecing all day (so live a good life as that is way too terrible an eternal torture)…
Did I mention I do not like foundation paper piecing?
But I really want to make the pin cushion, so I put my "big girl panties on" and proceeded with the pattern.
I had fun rifling through my modern prints fabric scraps to find some coordinated scraps as well as some interesting selvage pieces for the sides of the pin cushion:
After watching a tutorial on foundation paper piecing, and rewinding like 100 times (okay maybe a little less) to learn every nuance of the torturous technique, I successfully paper pieced the top of the pincushion:
And voila – a pincushion was born!
I used leftover bits of canvas from making tote bags (see post Tote, Tote, Tote Bags) as the background fabric for the top of the pincushion. I loved making the fabric covered button for the pincushion – I think it is adorable!
As much as I wanted to keep it, I decided to send it as a surprise to my friend Wendy (the one who wrote the series of posts last year as a guest blogger on the Quarantine Quilt she made with her neighbors 4 boys ages 2 – 8 – Quarantine Quilts).
She sent me a photo of the pincushion in it's new home in her sewing room: